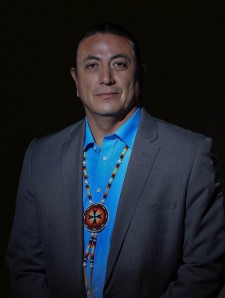 Globally Regarded Native American Leader Headlines Social Investment Opportunities within Native America as the Newest Member of the Native American Venture Fund.
NEW YORK, July 12, 2018 (Newswire.com) - David Archambault II, former chairman of Standing Rock Sioux Tribe in North Dakota, recognized for leading the opposition against the construction of Dakota Access Pipeline in 2016, has joined the advisory board of Native American Venture Fund (NAVF).
Chairman Archambault grew up with his family on the Pine Ridge Indian Reservation and attended the Little Wound School in Kyle, South Dakota. He studied at Standing Rock Community College (now Sitting Bull College), Bismarck State College, and earned a bachelor's degree in business administration from North Dakota State University. He further earned a master's degree in management from the University of Mary.
In September 2013 David Archambault was elected as chairman of the Standing Rock Tribal Council. Early in his career as chairman, he embraced the need for political recognition of tribal economic development. He orchestrated the historic visit of President Obama and the First Lady to the Standing Rock Reservation on Flag Day 2014. During that visit, he accompanied the President and First Lady in a meeting with Standing Rock youth, who spoke about the challenges they face growing up on the reservation and their aspirations for the future.
In his role as chairman, he was appointed to the U.S. Sentencing Commission's Tribal Issues Advisory Group, the Department of Justice's Tribal Nations Leadership Council and the U.S. Department of Labor, Native American Employment and Training Council.
In April 2016, Standing Rock Sioux Chairman Archambault with elder LaDonna Brave Bull Allard established a camp as a center for cultural preservation and spiritual resistance to the $3.8 billion pipeline built by Texas-based Energy Transfer Partners over fears it would harm cultural sites and the tribe's Missouri River water supply. Over the next few months, the "Standing Rock Tribal Resistance Camp" grew to several thousand people to include representation from 29 other tribal nations. The opposition, through social media, went viral and quickly gained international recognition which came to represent the long and arduous struggle of indigenous peoples everywhere. Moreover, the Standing Rock became a symbol in reshaping the national conversation for tribal sovereignty, ancestral preservation and environmental protectionism for Native American Tribes. Chairman Archambault and the Tribe received support from many high-profile activists and politicians, including President Obama.
The internationally broadcasted protests that lasted until February 2017 partially achieved their goal of blocking the pipeline until the new administration authorized the completion of the pipeline.
Chairman Archambault testified before the United Nations Human Rights Council in Geneva, led the Washington, D.C., "Native Nations Rise" march and published editorials in The New York Times.
Among many awards and honors Chairman Archambault was named a "Leading Global Thinker of 2016" by Foreign Policy Magazine, was given the "Native American Leadership Award" by the National Congress of American Indians, was honored as the "Global Green Champion" at the 14th Annual Global Green Pre-Oscar Party and received a "Doctorate of Law Honoris Causa" from the Vermont Law School.
At NAVF, Chairman Archambault will continue his efforts for benefit of Native Americans through numerous business development projects. "We are honored and enthusiastic to have Chairman Archambault joining our team. We believe that by matching the investment capital and unique opportunities the Native American business can offer, we can make enormous impact on indigenous people's lives," said John Cataldi, CEO of NAVF.
The Native American Venture Fund (NAVF) is an Impact Investment Fund that promotes Environmental/Economic, Social and Governance (ESG) development activities for indigenous tribes throughout North America and is managed by Native American Partners Incorporated. NAVF has established a series of socially responsible and impactful investment funds that will leverage the unique economic and legal advantages provided by the United States government to federally recognized Native American Tribes.
About the Native American Venture Fund
The Native American Venture Fund (NAVF) is an Impact Investment Fund that promotes Economic, Social and Governance (ESG) development activities for indigenous tribes throughout North America and is managed by Native American Partners Incorporated. For more information, please visit www.NAVF.net. 
For further information, please contact:
John Cataldi, Managing Partner
Native American Venture Fund LLC
Email: John@NAVF.net
30 Wall Street, 8th Floor
New York, NY 10005
Telephone: 212-634-4300
CAUTIONARY NOTE REGARDING FORWARD-LOOKING STATEMENTS AND RISKS:
As defined by 15 U.S. Code § 78u–5: This release contains "forward-looking statements" – that is, statements related to future, not past, events. This information is given in summary form and does not purport to be complete. Information in this presentation, including forecast financial information, should not be considered as advice or a recommendation to investors or potential investors in relation to holding, purchasing or selling securities or other financial products or instruments and does not take into account an investor's particular investment objectives, financial situation or needs. Before acting on any information, investors should consider the appropriateness of the information having regard to these matters, any relevant offer document and in particular, they should seek independent financial advice. All securities and financial product or instrument transactions involve risks, which include (among others) the risk of adverse or unanticipated market, financial or political developments and, in international transactions, currency risk. This presentation may contain forward-looking statements including statements regarding our intent, belief or current expectations with respect to NAVF's businesses and operations, market conditions, results of operation and financial condition, capital adequacy, specific provisions and risk management practices. Readers are cautioned not to place undue reliance on these forward-looking statements. While due care has been used in the preparation of forecast information, actual results may vary in a materially positive or negative manner. Forecasts and hypothetical examples are subject to uncertainty and contingencies outside the Fund's control. Past performance is not a reliable indication of future performance.
Source: Native American Venture Fund
Share: